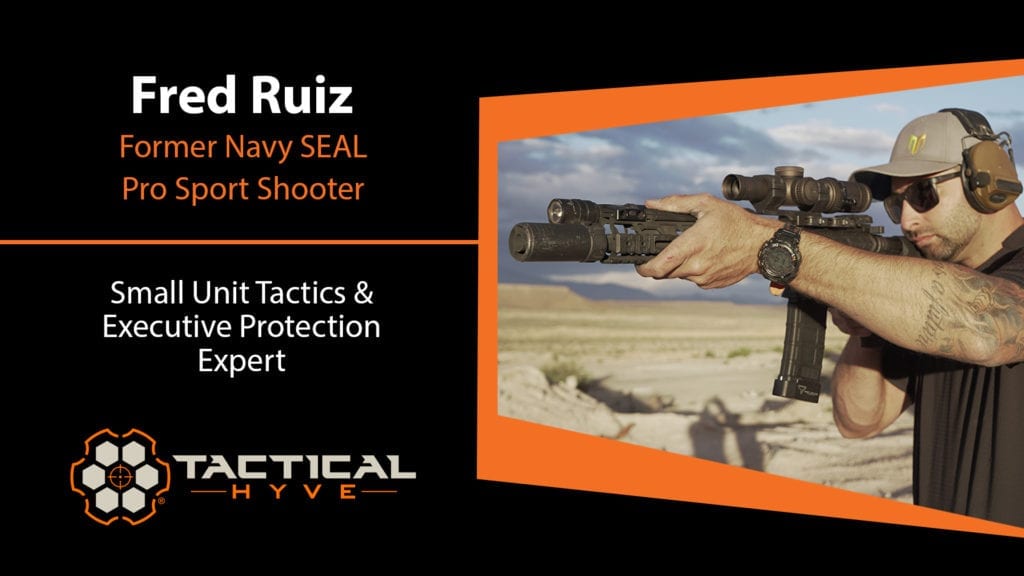 Fred Ruiz is a former U.S. Navy SEAL who completed nine years of active duty service. He is a qualified Naval Special Warfare Sniper and small unit tactics subject matter expert. In addition to teaching SEALs, he has taught private shooting and tactics courses nationally for civilians, law enforcement, and other military service members.
After leaving the Navy, Fred became an executive protection team member for several Fortune 500 executives and their families where he worked as a close protection agent. His experiences in corporate security inspired him to launch his own private firm called, Method Enterprises. The company focuses on private security and close protection services, tactical and security training, and logistics support for domestic and international clients.
Fred is also a professional competitive shooter in pistol and 3-gun action shooting sports disciplines with factory sponsorships from Primary Weapons Systems, Vortex Optics, and Polymer80. He has been involved in competitive shooting sports and with the firearms industry for over 15 years and serves as a product consultant for numerous popular brands.
Currently, Fred continues teaching tactics for a military SOF unit as he works to develop and grow his own business. He also travels to teach performance shooting courses for private groups looking for specialized coaching.
Fred's combat and sports experience are invaluable given the growth of tactical shooting and shooting competitions around the world. We're happy to have him as a resident Subject Matter Expert at the Hyve.
Fred regularly visits our forums. Make sure to visit and register to get guidance from Fred!