Editor's Note: The review was conducted and written by a friend of Tactical Hyve–an active duty Spec Ops member whose identity cannot be revealed.
I've been carrying guns for personal and professional use for my entire adult life.
My overt duty carry has predominantly been at the three o'clock position. Over the years, it did vary in some regards to exactly where at three o'clock. On belt, on kit, drop leg, etc.
Crossing over to the concealed carry holster realm, the four o'clock behind the hip position has always been the natural go-to position for me. I have run a dozen or more platforms this way.
I will say that as the weather heats up keeping your carry concealed back at four o'clock becomes more challenging. I've often found myself down to a t-shirt having to adjust my IWB carry to one or even six o'clock at times.
I've previously tried on appendix carry type holsters, but never really gave them the time of day. So going into this review a few months ago, I was really starting with no real-world experience of any kind. 
Holster Review Details & Criteria
When we review holsters, we evaluate ten areas. They are:
Trigger Coverage
Retention
Concealability
Relative Comfort
Attachments
Access
Master Grip
Pistol Protection
Body Protection
Durable Material
For the review, the Hyve purchased two Axis Slim holsters off of the Tier One Concealed website for the purposes of this review. We have had no direct contact with the company.
On the site, there are sixteen different options that must be filled in with your preferences, which I thought was really cool.
For both the SIG P365 and the GLOCK 19, I went right-handed with the single mag pouch. Though, on the GLOCK 19, I selected an Inforce APLc light compatible option. 
Once they came, my initial impression was pretty straightforward. Both seemed well constructed – similar to other Kydex type holsters I've seen. 
The Axis Slim is actually two separate pieces; you get the holster itself and the mag pouch, which are bound together with a bungee weave that allows the holster to flex while being worn, which makes them more comfortable. The standard belt clips were easy to use and worked well. 
Trigger Coverage
Trigger coverage is excellent, The holster leaves no chance for an accidental discharge due to a snagging or unintended contact to the trigger itself. 
Retention
I found the retention for both platforms to be quite secure. I was able to hold each holster upside down with a fully loaded pistol magazine and shake the holster without either the pistol or mag falling out. I feel that the Axis Slim will keep my weapon and mag fully retained during a reasonable tussle or fall. 
Concealability
The Axis Slim was very easy to conceal each and every time I went out the door. Using this holster, I had nothing more than a T-shirt on my torso. I was easily able to go about my day in public and at no time did I ever worry about printing or revealing my firearm.
Of course, the SIG P365 outperformed the GLOCK 19 in this area, but that is to be expected. Still, as big as the GLOCK 19 is, it was much easier to conceal in the front appendix position than it ever was at 4 o'clock.
I would have to say that concealability is the Axis Slim's greatest strength in comparison to other holsters I've used in the past. I've always been a minimalist when it comes to my gear. I've always believed less is more. I try to keep my every day carry down to the minimum I feel I need to safely conduct my day and this platform works well with that in mind. 
Comfortable Fit
As far as the Axis Slim's comfort is concerned, I didn't have any issues with the SIG 365. It was very comfortable at all times no matter what I was doing.
It's only when I switched to the GLOCK 19 that the size began to become an issue.
For me, at 6 foot tall and 200 pounds, I felt like that was a lot of gun pressed up against my stomach, especially when I needed to kneel down or reach down and grab something off of a shelf, etc.
The worst was definitely trying to drive. I mean, it's just crammed in there and the seatbelt doesn't help. I couldn't wait to take the thing off.
But with the SIG P365, I didn't mind it at all. It was very comfortable. I'm glad that I have the holster in both types because if I feel like I need to carry more gun, then the decrease in comfort is a small price to pay. 
The bungee cord, as mentioned earlier, allows the holster to flex and conform to one's body better. In addition, the holster includes a couple of design features to help avoid printing.
A wedge (left arrow below) can be added so that the gun is pushed more towards the body for better concealment. Similarly, the other size of the holster, the magazine pouch, was designed with a 'built-in' wedge that also pushes the magazine towards the user's body to help avoid printing.
Attachments
All attachments proved to be very secure. The holster attaches to the mag pouch with the bungee and at no time did I feel it coming undone or loosening. The belt clips are held in place with screws similar to other manufacturers. At no time did they come loose nor did I have any problems with them. 
Access
Both holsters and mag pouch were well manufactured. The high-quality molding provided smooth and consistent draws.  There is no further retention needed for standard concealed carry weapon (CCW) conditions. 
Master Grip
Establishing a grip with either pistol was not an issue. I felt this holster provided me with a clear and unobstructed draw from concealment.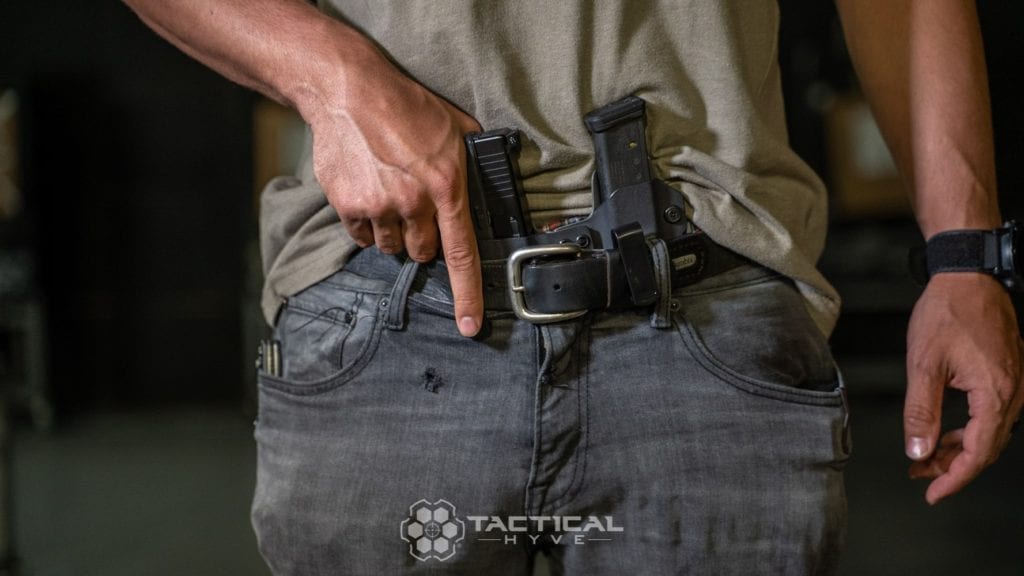 Pistol Protection
The pistol was well protected. The magazine release is left uncovered as well as the bottom of the holster leaving the muzzle slightly exposed. There are both pluses and minuses to this, which doesn't bother me at all. Being able to bump mags for reloads while still holstered comes in handy as well as allowing the holster to drain if submerged. 
Body Protection
Just as the holster protects the pistol, it also protects the shooter. The holster completely covers the pistol, so that when it gets hot, one will not be affected.
Customers have the option to have a full, mid-size, or short sweat guard. Below, you'll see the holster with a full size sweat guard for a P365 while the holster on the right for Glock 19, uses a mid-size sweat guard.
Durable Material
Again, the holsters were very well-made. I feel confident that they will continue to hold up and perform as well as they have so far.  Nothing about them seems cheap, flimsy, or in need of improvement.  With all the customizations and the color options, you really get the holster you want and in my opinion, I think they're going to last a long time. 
The Verdict
All in all, I really like these holsters. Again, going into the review and trying them out, I really didn't know what to expect. I wasn't a big fan of appendix type carry, but I am now and I plan on using these holsters.
The price point is a bit steep, but when you get onto the website, you know you are getting a holster fully customized to your specifications. But, you've already spent four to five times that much money on the gun at least. Last I checked, ammo isn't getting cheaper. I mean, honestly for what you have to gain compared to what you have to lose, I believe it's worth it.
I feel comfortable recommending these types of holsters offered by Tier One Concealed. They've made a believer out of me.
The Final Verdict: HIGHLY RECOMMENDED
Editor's Note: Like many holsters, guns, and other pieces of gear, one size doesn't fit all. These holsters are commonly referred to as sidecar style holsters, and some people do not find them comfortable and/or challenging to use or wear during hand-to-hand combat. Unfortunately, you will never really know if they work for you until you try them.
Personally, I prefer my mag pouch and holster to be separated for mobility and flexibility.